Which service do you want to pay for?

We Accept
Transaction History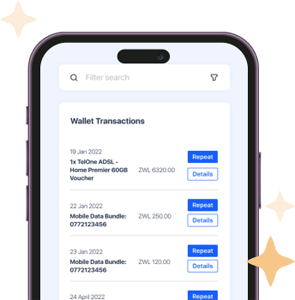 View all your previous purchases in detail and conveniently re-order with a single click for your recurring payments.
View Transactions

556 reviews
The BEST👌👌👌
An excellent app... really enjoyed using it😊😊
Service was smooth, nice & easy do keep up the great work!!!!!
Great service instant payments
this is a great platform and efficient
Great App to use. I mostly buy airtime and top up my Total card fuel. Secure. Agents readily available to assist whenl
Excellent customer service
I really enjoy using this app, keep it up guys.
Paynow offers the best online services in Zim from buying airtime and Zol payment keep up the good work
Thank you Pay now,,, this is a very reliable service
They told me my transaction hadn't gone through and that they would reverse the transaction. However it did indeed go through and I ended up making a double payment. Now I cannot retrieve my funds and I am stuck with a debt. I don't recommend their services. Definitely a 0/10!
Excellent service
Easy to use
Best Service been using it Since 2018
Wow. That was so quick. I liked the service. Meanwhile, I suggest that you develop a Whatsapp chat-bot for convenience's sake.
Their customer services are superb
Arguably the Best online payment app in Zim.
Fabulous! So easy yet so effective. I have juiced up my Net1 line with Ecocash balance in split of seconds. Why waiting, go ahead and feel the essence of technology with Techzim..
Very happy with paynow top-up. Can top-up airtime data landline fast and efficiently Also pay Nyaradzo and city council bills. Very handy and very helpful when there is a problem. 5 stars from me. Thank you guys for your support
fast response
Its a good app and i recommend it to anyone. Its user friendly.
Great app I'm impressed by the fact that it allows us to pay for our property interests in Zimbabwe. Great work adding Bulawayo city council.
Works very well with Paypal. Quick and more than efficient. Keep it up guys!
Excellent..👌🏾 You can't go wrong.
I had problems with the policy number, paying up -kept saying use accepted format, although it was the right format. Tapiwa assisted with a link and suggested I copy policy number from the link and it worked.
I have used them several times and always have found their services to be very good , and efficient. I have tried several alternatively methods of payment and can honestly say this is the best payment platform I have used. . And they are very good at providing feedback should you need to seek clarification. Keep up the service, it is good to find a trusted payment platform . Thank you.
Paynow makes life easier for me, it's an amazing platform which is fast and cheap in making payments online.
excellent service
This payment is excellent. Life have been made very easy. Thank you so much for devising this method of payment. 30seconds I was done
I am truly satisfied with this service..dont change it if not for the better
Best application and fast services 👌
Simple, faster, time effective, convenient.
The service was pretty quick for a City of Harare payment
Reliable, fast and convenient
Best service ever for Diaspora
You guys are the best!
Efficient services
Fast, reliable and convenient!
Reliable, articulate, holistic & convinient app, one stop shop for transactions... Life made easy
Very good experience at all times!
Best of the best, it makes life easier
Best online payment system ever🤝🤝,
l would love to give a round of applause to members of Paynow. This platform is very efficient, within 3 minutes l had finished paying my tuition fees. Thanks guys this is so great.
Works great ,efficiently with speed ,highly recommended and it is so secure .. 👌🏾
Paynow Blog
Airtime Top-Up App – Recharge Any Network in Zimbabwe
Feb 27, 2023 | Airtime, Uncategorized
With multiple digital payments available, cross-platform payments have become a necessity for the average Zimbabwean. We have gotten to a stage where the bulk of the country's financial transactions happen electronically. There are few areas...
Read More
Visit Blog